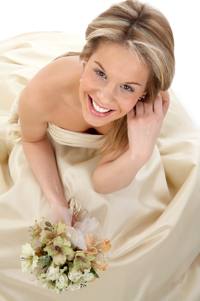 Sewing a wedding gown can be one of the most exciting projects you'll ever undertake, regardless of whether it's for yourself, for your daughter, or for a friend. Some people sew one, and after it's finished, can't wait for the next opportunity to sew another. Other people find themselves involved in a much bigger project than they'd ever anticipated and feel slightly (or totally!) overwhelmed until the last stitch is put in.
Whether you're tackling your first wedding gown or have sewn several, the tips below will help you avoid some wedding-dress dilemmas so that your sewing experience is enjoyable. Read on and let your imagination help you create a dream-come-true wedding gown.
Bustles. One of the first things we think about as we study the styles and designs of wedding gowns is that it should look beautiful both during the ceremony and during the reception. After the ceremony, the bride usually wants to be able to move more freely, be able to turn easily, and perhaps be able to dance. If a gown has a detachable train, this is easily achieved. But if you're drawn to gowns without detachable trains, bustling the gown or the train is the answer.
Gowns are typically bustled either on the top of the gown, or underneath the skirts. The concept is the same: identify several points midway down on the skirt/train and secure these points higher up on the gown. Bustling on the top of the gown is usually accomplished with thread eyes carefully placed in the mid-section of the skirt, which are then secured around on the of back opening buttons, or on a button or hook higher on the skirt or near the waist. These buttons, hooks, and thread loops can be concealed with the gown's ornamentation if necessary.
If the bustle is made from underneath the skirts, ribbons are attached at the appropriate places in the mid-section of the skirt, and another set of ribbons is attached higher on the skirt or near the waist. The pairs of ribbons are then securely tied to form the bustle. Using a different pastel color of ribbon for each "set" of ribbons that get tied together will make the bustling much easier than if, for instance, all white ribbons are used.
Bustling gowns can be tricky, especially since there are no hard and fast rules. The object is to make the gown look as graceful and flattering when bustled as it is full-length, and to achieve this, your gown may need to be bustled in one place or at a dozen points. Experimentation is the key to success.
Back openings: buttons vs. a zipper. The back of a gown is usually what's seen during the ceremony, so there is often a design element or special ornamentation that is used as a focal point. When deciding whether to use a back zipper or the more traditional buttons, consider the overall design of the gown as well as the back detail(s). Sometimes a zipper is virtually undetectable because of the gown's ornamentation or fabrication, and sometimes part of the beauty of the design is the dozens of buttons.
A word of caution about faking those buttons – if you're tempted to sew buttons on top of one side of the zipper to get "the look" without having them be functional, you run the risk of the back just looking bulky rather than camouflaging the zipper. And remember, there are some dress styles where you can move the zipper to the side seam, and it will be quite unnoticeable.
Something old, something new, something borrowed, something blue. When you're creating your gown, incorporating the elements of this good-luck rhyme could be part of the fun. A bustle ribbon or waist stay could be a pretty pale blue. Antique lace would be beautiful as well as old. "New" probably won't pose a problem if you're purchasing fabric. And you might want to borrow a crinoline instead of making one.
Ornamenting the veil. Adding ornamentation to a veil – a plain veil you've purchased or a veil you've made – can be a wonderful way to let your creativity shine. Books on veils, patterns for veils, and a bridal shop's inventory can all serve as inspiration. Edge the veil in a tiny ribbon or with a row of beads. Select a lace edging or incorporate leftover lace motifs from the gown. The gown's ornamentation will help guide you, since you'll want the gown and veil to be thematically similar. If the gown is very simple and understated, then the veil could be quite ornate. Tiny silk flowers, sequins and beads, rhinestones, hand embroidery, feathers, eyelash trim or fur, silk ribbon motifs – the possibilities are endless.
Using a family wedding gown. For sentimental reasons, a bride may want to wear the gown of a family member or even a dear friend. This is a lovely idea but one that can pose practical problems. If the gown is a good fit, but perhaps too plain, ornamentation can easily be added. If the gown is too big, it can often be altered or remade, although cutting down a dress more than two sizes can be difficult. If the gown is too small, it can sometimes be let out. If not, consider removing just the lace or ornamentation and using it on your gown, or cutting your bodice from the original gown's skirts. You might have to play with finding compatible fabrics for the rest of your gown – a tulle skirt or a lace overlay on the bodice are simple solutions – but the gown will still have that special meaning.
Fabric terminology. The world of special occasion fabrics can be confusing. Satin, chiffon, taffeta, charmeuse, moiré. In addition to terminology that describes the type of fabric, there is a separate terminology that refers to the fiber content. Fiber contents fall into two categories: (1) natural fibers, which are cotton, wool, silk, and linen; and (2) man-made fibers, some of which are polyester, acetate, nylon, and rayon. Satin, which is a typical bridal fabric, is widely available in silk, polyester, acetate, and rayon.
One is not necessarily "better" than the other, although there will most likely be a difference in the luster, shine, drape, and hand. Some will be easier to sew on than others – chiffon may be considered difficult to handle by some, but silk chiffon is a dream in comparison to polyester chiffon. The biggest difference will be the price per yard, which you should keep in mind when exploring fabrication choices and setting your budget.
Traditionally, wedding gowns have been made from woven fabrics. But as knit garments have gained popularity, the sewing industry has responded by making available to the home sewer knit fabrics and patterns designed for knits. All knit fabrics have a certain amount of give to them, but stretch knits – knit fabrics with the addition of spandex – are also now widely available. Commercial patterns are developed specifically for either a woven fabric or a knit fabric. The pattern envelope will provide this information.
The color of the gown. Choose a color that is flattering with the bride's complexion. There are many shades of white, off-white, and candlelight. A stark white overpowers most complexions, so take time to find the most flattering shade of white or off-white. It might help to think about it in terms of what the undercasting color is: some whites are blue-based, while others are yellow or pink; some off-whites are yellow-based, while others are green or gray. Don't overlook light pastel colors, too. A very, very pale pink might be exceptionally flattering for the bride, and in combination with lace or other ornamentation would not look like "a pink dress." And there are beautiful shades of champagne and ecru, many of which look deliciously elegant and sophisticated.
Ensuring that the gown fits well. Although it may sound tedious if you've never done it before, make the gown – or at least the bodice of the gown – in muslin or any other inexpensive fabric before cutting into your beautiful fashion fabric. This provides a stress-free opportunity to see how well the pattern fits, and if the neckline and other style lines are flattering. A test garment like this (often called a mock-up) becomes your laboratory: you can easily pin out excess fabric, let out a tight seam, or change the curve of the neckline, and make the corresponding pattern changes.
If the pattern changes and the fitting process are bewildering to you, consider using the services of a professional dressmaker or custom clothier. While many professionals make custom wedding gowns, most are also happy to help you fit the mock-up and make the necessary pattern changes. Knowing that your pattern fits well will make sewing the gown even more pleasurable. Local fabric stores and your yellow pages should have names of dressmakers
Two-piece gowns: maybe you can wear it again. Some brides love having a dress that will only be worn on that one very special day. Others – and especially people who sew – might like to get the opportunity to wear the garment again. Many gowns are too distinctly bridal to be comfortably worn in other social settings. But with some planning, there are ways to design your gown so that at least part of it can be worn again.
Two-piece gowns provide a wonderful way to achieve this goal. For example, a beautiful beaded top or bustier in a rich ecru color could easily be paired over black slacks and worn during the holidays or to a special event. Or an elegant silver silk charmeuse skirt would later look dazzling with a black sweater. Let your imagination go if this idea appeals to you – you'll come up with many ideas once you start thinking about the color and styling of the ensemble just a little bit differently than the typical bridal image.
Choosing a flattering style. If you are unsure about what style gown looks the most flattering, do a little homework. Visit several bridal shops and special occasion dress shops and try on lots of different types of gowns. Pay attention to the style lines of the gowns as well as to the ornamentation and coloration. Trying on evening wear as well as bridal gowns will also give you an idea of the kind of necklines and style lines that are flattering.
Although a wedding gown might be a much larger sewing endeavor than you've tackled before, it can be such a stimulating and rewarding sewing experience. And who knows, once you've successfully sewn one, you might be tempted to tackle other sewing projects that you thought were out of your reach.
Sarah Veblen is a custom fashion designer and writer. She teaches sewing in
several venues, including her own Intensive Study Program in Fashion Design.
She can be reached at www.sarahveblen.com.
Resources: Bridal Couture, by Susan Khalje (Krause Publications, 1997)
Marfy patterns, Italian based, with European styling.
Triumph of Individual Style, by Carla Mason Mathis and Helen Villa Connor
(Timeless Editions, 1994