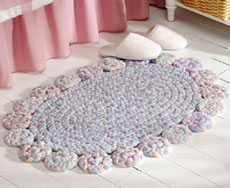 A quick weekend project designed to give any room its own special style.
Materials
1 yard each Blue, Green and Purple Terrycloth
1/2 yard each Pink and Peach Terrycloth
Tools

Rotary Cutter and mat
Nylon thread
Upholstery needle
Directions
1. Cut Blue, Green and Purple terrycloth into 1-1/2" wide strips the width of fabric for main rug. (Set aside 10 strips for use in circles.)
2. Cut Peach and Pink terry cloth into 1-1/2" strips for circles. Set aside for use later.
3. Fold each strip into thirds lengthwise and stitch ends together.
4. Tightly braid folded strips together, adding 3 new strips to end of rope when needed with a whipstitch. Continue adding strips and braiding to make one long rope. (More strips can be added while you are sewing the coils together to make rug as large as you want.)
5. Place braided rope with wrong side facing you on flat surface. Starting in center of rug, coil rope in oval shape, stitching coils together in a zigzag motion being sure to keep stitching hidden in folds.
6. Continue shaping rug until piece measures approximately 16"x 28".
7. For small circles around rug, cut the 1-1/2" strips of all terry in half and braid three strips together as was done for the large rug, using a variety of color combinations. Place these finished circles on outside of rug. Sew the circle where it touches the rug and also to the circle on either side.
Approximate Crafting Time: Weekend project
Skill Level: No experience needed.
Due to seasonal nature of project, supplies are available for a limited time only. Please read all instructions prior to beginning; read and follow all manufacturers' instructions for all tools and materials used. Provide adult supervision if children participate in this and all craft projects. Because Jo-Ann Stores, Inc. and Joann.com have no control over the use of materials and tools, nor surroundings, during construction of projects, Jo-Ann Stores, Inc. and Joann.com disclaim any liability for injury, damage or other untoward results. Content of this project sheet is presented in good faith, but no warranty is given, nor results guaranteed.
4/07