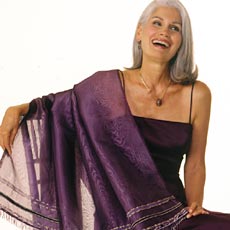 Accent your sparkling personality with this one-of-a-kind embellished shawl. You'll feel like dancing the night away the moment you slip this silky creation over your shoulders!
NOTE: This project is recommended for advanced sewers.
Materials
2 yards lilac Casa organza
2 yards eggplant Casa organza
7-1/2 yards 1/2"-wide lilac/gold edge ribbon
2-5/8 yards 1/2"-wide purple/gold edge ribbon
2-5/8 yards beaded fringe trim
Gold metallic thread
Thread to match trim and ribbon
Directions
1. Cut two 45" x 70" rectangles, one from each color of organza.
2. Cut off 2-5/8 yard of lilac/gold edge ribbon to use in step 5. To make ribbon ruffle, machine baste close to one edge of remaining lilac/gold edge ribbon with gold metallic thread. Carefully pull thread to gather.
3. Using gold metallic thread again, hand-stitch gathered edge of ruffle to eggplant organza, placing this edge 1" up from the short edge of the organza.
4. Position the purple/gold edged ribbon 1-1/2" above ruffled ribbon and mark position with chalk. Following the chalk line, machine stitch both sides of ribbon using gold metallic thread.
5. Repeat step 4 with unruffled lilac/gold ribbon, placing 1-1/2" to 2" above top ribbon.
6. Switch to zipper foot and thread that matches trim. With right sides together, machine stitch beaded fringe to bottom of shawl. (Fringe should be up toward the center of shawl to avoid being sewn into seam. Fringe will hang down when the shawl is turned right side out.)
7. Lay out embellished shawl. With right sides together, match lilac organza lining to corners. Stretch work as needed, pinning where necessary. With zipper foot, stitch along sides with trim.
8. With regular presser foot, stitch along remaining sides, leaving a small opening to turn right sides out.
9. Trim corners.
10. Place sleeve board through work and press seam open with warm iron. (Iron should be hot enough to press organza without crinkling.)
11. Turn shawl right side out. Press seam edges again to finish.
12. Fold in opening to match hem. Press and stitch by hand or machine to close opening.
7/04