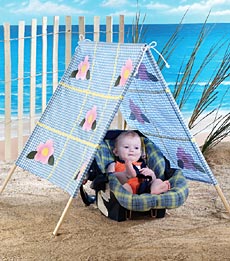 Your baby has it made in the shade this summer! Keep baby cool and protected during outings to the beach, park, or even your own backyard. This cheerful gingham tent folds up for easy transport.
Materials
Felt squares: 2 yellow, 6 baby pink, 3 sage green
Four pkgs. yellow jumbo rickrack
Five 3/4" dowel rods, 36" long
Four eyelets (size 1/4")
One yard white cording
Two yards gingham
One pkg. fusible web
Directions
1. From gingham, cut a 60" x 41" rectangle and a 4" x 41" rectangle.
2. On large rectangle: Stitch 1" hem on short ends (bottom edges of tent). On long edges (sides of tent), fold under 1/2" and press; fold again 1-1/2" and stitch close to loose edge to form rod pocket.
3. To form rod pocket for top of tent, on small rectangle: Fold under 1/2" along long sides and press. Fold under and stitch 2" hems on short ends. Fold in half so long edges are even.
4. Fold large rectangle in half so bottom edges are even. Place long edges of top rod pocket on either side of fold on large rectangle; side edges should be even. Stitch in place, leaving side edges of top rod pocket open.
5.Divide each side of shade tent into 9 squares. Glue or stitch jumbo rickrack in place to form grid. Extend rickrack beyond sides and glue to back, being careful not to glue rod pockets shut.
6. Enlarge patterns to desired size. Following manufacturer's instructions, trace and fuse flower motifs to felt. Cut and fuse to tent sides as desired. We used 10 flowers.
7. On both sides of tent, attach an eyelet to each side of top rod pocket. Be sure to insert center dowel rod before attaching last eyelet.
8. Lace 18" of cording through each set of eyelets and tie securely.
9. Insert dowel rods into side rod pockets.
To collapse shade tent: fold side edges toward center rod. Roll tent fabric around dowel rods. Tent is designed for use in sand or lawn; leg dowels will be steady when pushed into ground.
Approximate crafting time: 3 hours.
Skill level: no experience necessary.
6/04