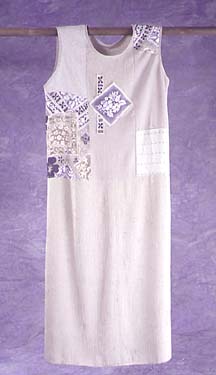 This dress comes from "Making the Most of the Cover Hem," one in a series of books that were designed with the Elna serger consumer in mind. The project features one of the newest trends in ready-to-wear: exposed serger seams. Get ready to create a stylish dress that looks like it belongs in a boutique!
It's easy – just choose coordinating prints, use topstitching details and serger appliqués, add some machine embroidery if desired, and use the 4-thread serger stitch as a quick hem finish.
Skill Level: Beginner
These project instructions are specific to a Janome machine; however; the project can be adapted for use on other machines.
Materials
Simple dress pattern of your choice

(e.g. McCall's #8149, McCall's #8719)
Rayon fabric yardage based on pattern plus additional fabric for bias trim at
neck and armholes
1/2 to 3/4 yard of three or four
coordinating rayon fabrics
Serger thread
Bias Tape Maker by Clover™
Optional: Adjustable Bias Binder
Serger Set-up
Stitch Selection: Cover Hem Wide; Cover Hem; 4-thread
Attachments: Topstitched Cover Seam foot "N" and guide "N-1"; Wrapped Seam Guide "H-3" and Cover Hem foot "H"
Thread: Serger Thread
Tensions: Cover Hem Wide(CL-1.0, CN-6.0, LN-6.0); Cover Hem(CL-1.0, CN-6.0, LN-6.0); 4-thread(UL-2.0, LL-2.0, RN-3.0, LN-5.0)
CL = Chain looper
CN = Cover hem needle
Length: Normal setting
Differential Feed: Normal setting
Instructions
1. Using front pattern piece, design patchwork pattern for dress front. Allow for seam allowances on all sections. Cut dress according to pattern from your variety of fabrics.

2. Seam sections together with traditional 4-thread serger stitch. Press to one side. Attach Topstitched Cover Seam foot "N" and guide "N-1" to machine. With right side up, center seams over guide and topstitch with Cover Hem Wide. Complete entire dress front in same manner. (First image accompanies this step.)

3. Stitch shoulder seams. Cut bias strips approximately 1-1/2" wide. Press edges to center using bias tape maker. Using Wrapped Seam Guide "H-3" and cover hem, position bias tape under foot. Take a few stitches on bias tape before inserting neckline edge into slot. Remove bias strip from guide approximately 3" before end. Fold under raw edge and continue stitching to end. (Second image accompanies this step.)

4. For armholes, take a few stitches as above before inserting armhole edge into slot on guide. Stitch both armhole edges.

5. Cut three to four squares or rectangles of coordinating fabrics for appliqués. Finish edges with balanced 4-thread or rolled hem serger stitch. Position appliqué pieces on front in a pleasing design. Using straight stitch on sewing machine, stitch appliqué pieces in place. (Third image accompanies this step.)

6. Stitch side seams. Measure hem to make sure it is straight. Using 4-thread stitch, finish hem edge. (Fourth image accompanies this step.)
Tips
When attaching bias edging, keep fabric in slot with left hand while guiding bias strip evenly with right.
Serge slowly, stopping and starting to adjust fabric in slot. Avoid very tight curves.
Project is by JoAnn Pugh-Gannon, Sewing Information Resources,
6/04